---
What is a solicitor?
---
A solicitor, in the UK, is a qualified legal practitioner (lawyer) who deals with legal matters, as well as conducting legal proceedings in a court of law.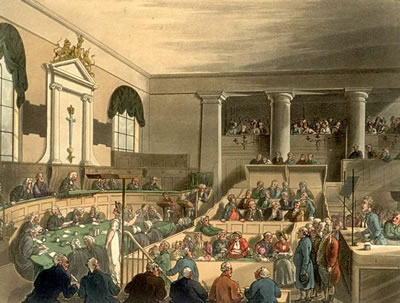 The Old Bailey, also known as the Central Criminal Court, painted by Thomas Rowlandson and Augustus Pugin for Ackermann's Microcosm of London (1808-11).
Prior to the creation of The Supreme Court of Judicature in 1873 under the Supreme Court of Judicature Act, there were three types of legal professional - a solicitor, who practised in the Court of Chancery, - attorneys, who practised in the common law courts, - and proctors, who practised in the ecclesiasical courts.
After the act was passed in parliament, attorneys and proctors disappeared and were replaced by "Solicitors of the Supreme Court of England and Wales".
Under the English legal system, solicitors handled legal matters, which may have included conducting proceedings in courts, however solicitors needed to work with a barrister as advocate in a High Court. All 'minor' criminal cases are held in a Magistrates' Court, and 'major' criminal cases may start in the Magistrates Court and be transferred to a higher court.
In the UK, most civil cases are held in county courts, typically by a solicitor. However, certain cases that have a value of more than £50,000 or more complex cases are tried in the High Court.
In order to become a practising solicitor, a fee must be paid to obtain a Practising Certificate, which is paid to the Law Society of England And Wales, who represent solicitors. Another regulatory body, The Solicitors Regulation Authority acts separately to the Law Society, and are responsible for the regulation of the professional conduct of over 125,000 solicitors at more than 10,000 law firms in England and Wales. The Legal Ombudsman may also come into operation for complaints against solicitors that cannot be satisfactorily resolved.
Training
To qualify as a solicitor there are two routes open. A qualifying law degree needs to be held in order to enroll with the Law Society as a student member, and study the Legal Practice Course. Alternatively, students may hold a non-law degree which may be classed as a 'qualifying degree'. In this case a conversion course must be undertaken. After the Legal Practice Course has been finished, the prospective solicitor undertakes two years' apprenticeshire with a law firm which is entitled to hire trainee solicitors.
However, it may also be possible to qualify as a solicitor by being admitted as a Fellow of the Institute of Legal Executives (FILEX), and completing several years' practical experience as well as having to study the Legal Practice Course.
---